Imagine design without boundaries. Fervital was founded in 1956 and today the Company is not just the only producer of marble and stone in Israel that is also an importer. Fervital is also the only importer of first class marble and stone that also manufactures products made of marble and stone.


The company offers its customers many unique advantages and a standard of service that provides you with a comprehensive, inclusive experience: import and production, a broad range of raw materials, design services, simulations and installation – everything down to the very last, smallest detail with uncompromising standards of quality and service.
Fervital specializes in supplying and producing a wide range of stone and marble products. We are experts at cutting to size, preparing special flooring tiles from large sheets of raw material, for islands and work surfaces, bathrooms, stairs, tiling and cladding, basins with hidden plumbing, built-in sinks, covering for fireplaces and more.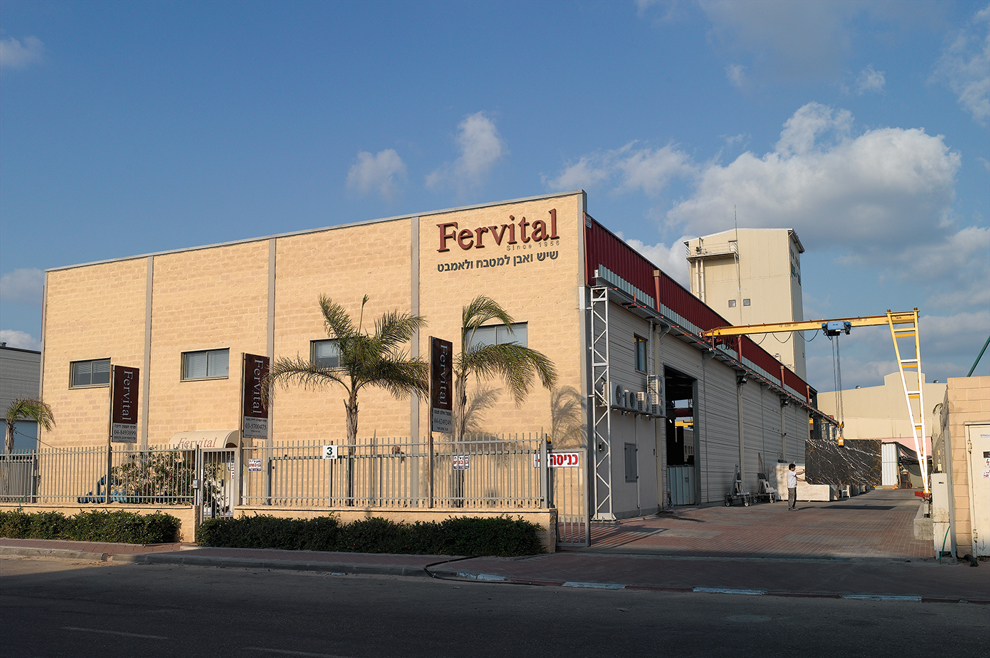 ייבוא
The company provides experienced, specialized services for architects, providing expert consultation from the first design stages and on to the final details of construction and installation. Fervital has many years of experience working closely with architects on a wide range of projects, both large and small.
Over the past few years the company has carried out a number of projects in both the private and public sector, many with some of Israel's leading architects. Maintaining Fervital's character as a family orientated business is one of the company's essential foundations.
Fervital was established by the late Joseph Avital and today it is managed by the three Avital brothers – Danny, Ilan and Dado.
ייצור
Fervital has unique production capabilities (the most advanced in the world) for working with all types of stone, granite, marble, onyx, basalt, travertine, quartz sheets, Caesar stone and more.
The company's production plant in the Emek Hefer Industrial Estate is outfitted with advanced, cutting edge design and production equipment and also provides hand gluing and polishing services. Our unique capabilities provide the highest possible standard of finish to the final product.
The company's production plant can produce unique, individual items as well as mass produced products. From special, hand crafted pieces that include panels, cornices and complex stone-work and through to top quality mass production processes that are closely monitored for quality throughout the production process.
You are invited to arrange a visit to our plant, situated next to Fervital's showroom, to see for yourself.
שירות מקיף
Our excellent and comprehensive services will assist you throughout your Fervital experience.
Fervital's services will help and guide you from the start to the very end, down to the smallest of details. Our services include: consultation, design and planning, accurate and tangible simulations, supply, production, execution, installation and responsibility. That means one company that stands by your side throughout all stages of the work.
In most facilities in the market, production of the stone in the plant is separate from the supply process. There are many importers and suppliers of stone as well as many production facilities, large and small. The fact that production and supply are carried out by two different companies could create a wide variety of different problems.
מלאי זמין
Fervital has a huge stock of hundreds of different types of stone and more than 4,000 exquisite sheets for you to choose from. Much of our stock consists of especially rare and prestigious stone; natural stone and sheets of quartz in countless different textures and styles brought from around the globe. The company's stock is available for immediate use and every sheet of stone you purchase is immediately marked exclusively your use.
A rich choice of colors and hues – from deep black to pure white, translucent and everything in-between – and a wide range of prices, allows you to choose the stone that exactly fits your vision and needs, your style and your budget for whatever use you have in mind: for the kitchen, bathroom, work surfaces, wall cladding, flooring, stairs, internal and external use and more.